WHAT'S UP IN DELFIN?
A NEW DIVISION DEDICATED TO PNEUMATIC CONVEYORS IS BORN!
26/02/2019
For over a year, Delfin has been working on a new range of products: Pneumatic Conveyors!
Cleaning solutions are no longer the only focus of the company: today, Delfin is officially entering in the conveying solutions world. Delfin's vacuum know-how contributes to improve the efficiency of any industry dealing with dust, granules and solid material.
Industries using this technology are most of the time belonging to food production, pharmaceutical and chemical, nutraceutical and additive manufacturing.

THE STORY SO FAR
In 2017, Salvatore Siclari, one of Delfin founder's sons, was personally involved with great interest into this range of conveying solutions and decided, together with his father, to include this business in Delfin. Still in 2017, Salvatore met Renato Spizuoco, one of the most skilled experts in Northern Italy, and Simone Pede, a young engineer fascinated by this new technology.

Only a year after, the special division for Pneumatic Conveying solutions was born.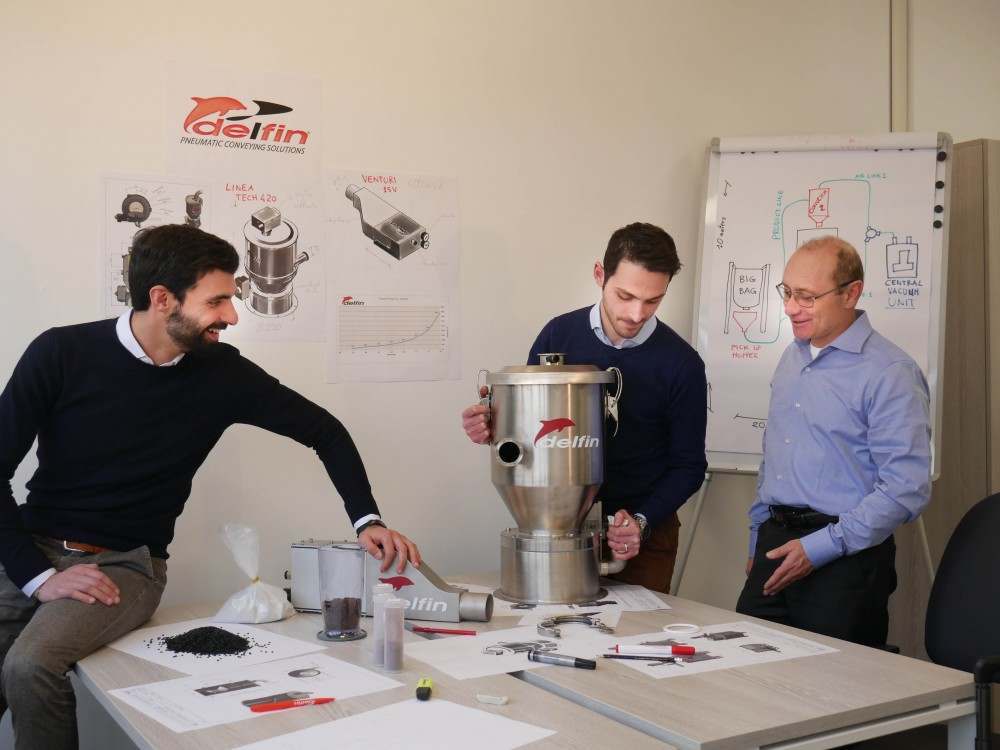 Thanks to Renato's know-how, this new Delfin division proposes a large range of solutions to convey any kind of material: solids, granules and powders.

The department has a main goal : the perfection of material which can lead to find the right conveying solution to your needs, and that's how they do it better.

Together, we take care of your product.

Pneumatic Conveyors, what is it? Read more about it: PNEUMATIC CONVEYORS: A NEW RANGE FOR POWDERS, GRANULES AND SOLIDS HANDLING

Discover our new LinkedIn page: Delfin Pneumatic Conveying Solutions

Discover the Pneumatic Conveyor range