What is the best heavy duty vacuum cleaner for heavy industry?
03/09/2019
Because of the constant speed of heavy industry production plants, maintenance must be continuous and extreme, aiming at maximising both efficiency and productivity.
Each Safety Manager is aware of the quantity of material pouring out from machinery during production cycle. This material accumulates in different points of the plant, which are both difficult to reach and may cause expensive downtimes. Our Heavy Duty Vacuum Cleaner could help improve efficiency: let's see how.
Heavy industry: dealing with production efficiency issues
The most relevant production efficiency issues, that all heavy industries must deal with, are caused by the inappropriate or insufficient maintenance of both machinery and working environments:
Leakage of raw or processed products from machinery or conveyors, resulting in economic loss
High costs and long time spent in machinery maintenance
Operators' health problems : in fact, operators must work daily in unhealthy environments, full of fine dust which can pose a serious threat to their health
High costs due to unexpected production downtimes
Regular cleaning and maintenance of the plant with Heavy Duty Vacuum Cleaners are the only way to guarantee the efficiency of a production environment. For this reason, each cement plant, steelworks, incinerator or other types of heavy industries must be provided with powerful and versatile vacuuming systems able to guarantee the maximum speed in the recovery and disposal of large quantities of material.
The new range of DHV high power industrial vacuum cleaners has been specifically designed to work in the hardest and heaviest possible conditions, while also providing solutions to the industry sector and the industrial working environment.
DISCOVER THE FULL RANGE OF HEAVY DUTY VACUUM CLEANERS
RECOVER AND REINSERT MATERIAL INTO THE PRODUCTION CYCLE
When transporting large quantities of material from one point to another, leakages are inevitable. An example, is the mechanic conveyor: by using this traditional conveying method, about the 1% of the product is lost during handling actions. This means that for every 100 tons of product, 1 ton is accumulated close to or (even worse) beneath the conveyor belt. Consequently, material is wasted and may cause potential damage to the conveyor belt.
LESS TIME TO SPEND ON MAINTENANCE OPERATIONS
High power industrial vacuums reduce time necessary to devote to maintenance operations. Moreover, the correct maintenance and the regular cleaning of working environments minimize the need of extraordinary operations, since they extend the service life of both components and machinery.
HEALTHIER AND SAFER ENVIRONMENT
The large quantity of fine dust poses a real threat to operators' health. The incorrect management of leakeges and cleaning cycles of working environments increases the risk of diseases due to contact with fine dust.
LESS PRODUCTION DOWNTIMES
The worst possible situation to handle in production is to conituously manage unexpected production downtimes. The regular use of industrial vacuum cleaners for cleaning both environments and machinery significatly reduces unexpected stops.
High Power Vacuum Cleaners. What makes them the specific solutions for heavy tasks?
DHV vacuums have been designed by considering their contexts of application. Their main features are as follows:
SELF-COOLING LOBE PUMPS
Self-cooling lobe pumps are able to reach vacuuming performances higher than traditional side-channel blowers and are suitable for continuous duty of large quantities.
HIGH FILTRATION EFFICIENCY
Filtration and efficiency systems able to extend the operational autonomy of the system
HIGH COLLECTION CAPACITY
High collection capacity and easy handling of the vacuumed material
CHECK OUR HEAVY DUTY VACUUM CLEANER DHV TANK IN ACTION!
HIGH PERFORMANCE VACUUMS FOR CENTRALIZED VACUUM SYSTEMS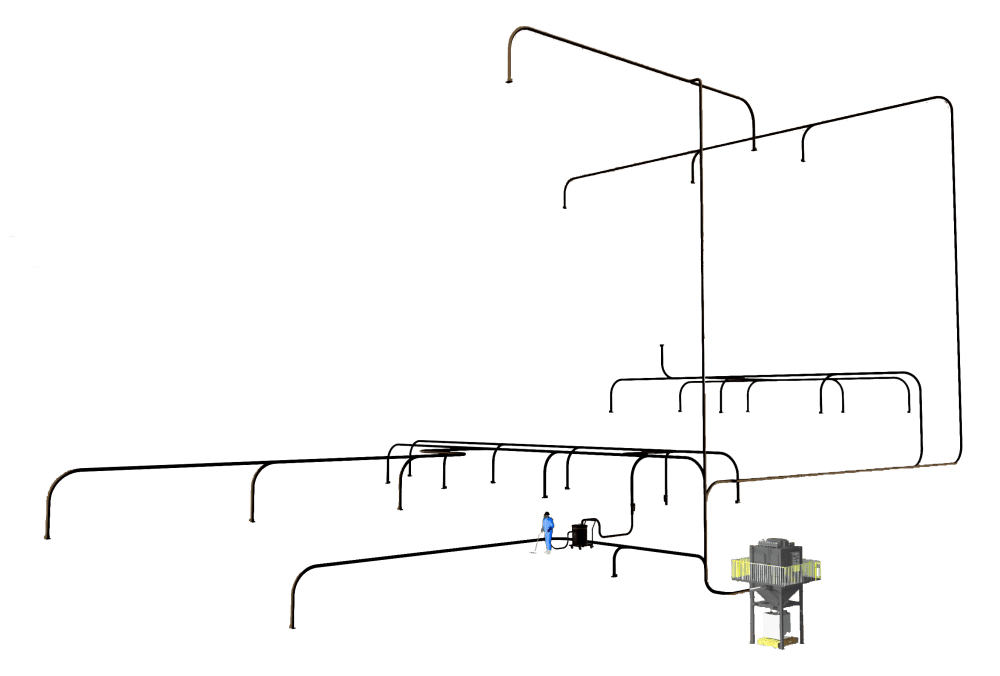 DHV vacuums can also be used with centralized vacuum systems, in order to reduce space inside production plants and to optimize the management of collected material.
Due to the importance and complexity of these systems, all vacuuming solutions are shaped on the specific needs of each customer, aiming at guaranteeing the highest production efficiency of the plant.
ASK FOR MORE INFORMATIONS ABOUT DHV RANGE