How to limit risks in the sector of confectionery and semi-processed products?
10/09/2019
In order to obtain the best quality, industries producing sweets and semi-finished products must all follow the same recipe:
Precise balancing techniques
Excellent quality of the raw material
Maintenance of constant temperatures in transformation process
Product handling
Preserve the integrity of the product
Preserve food from the contamination of external agents
Final packaging of the product
Pneumatic conveyors reduce risks of product leakage from the production line and cross contamination.
Risks of injury to workers: an ever-present danger
The final quality of the product also depends on operators working and safety conditions.
Several and continuous risks are involved:
risk of slipping on the floor due to leakage and material spillage
the difficult manual handling of loads represents a risk to operators' health
How does pneumatic conveyor help confectioners in speeding up production process?
Industries often tackle the same problems on their production lines due to the material. Depending on the type of product, problems are different.
The most difficult products to manage are:
volatile - like flour,
wet,
fat - such as cocoa powder,
fragile – such as hazelnuts, almonds and dried fruit,
clogging - like powdered milk.
The products which are easier to manage are:
dry - as dried fruit,
sliding - like sugar and puffed rice.
3 types of problems have been recognized:
Production line downtimes and machines maintenance are often caused by accidental errors in the process of product manual handling. Pneumatic conveyors remove these inconveniences by working hermetically: in fact, they connect the receiving machinery to the previous machinery.
Product contamination (especially in case of dust) caused by hygienically incorrect production systems or fraudulent handling. Pneumatic conveyors also help eliminating human error from the causes of this problem.
Loss of product and / or raw materials. At each stage of the process, a percentage of the product is lost and induced costs are often not clearly quantified: it is estimated that this loss of product affects 1% to 3% of the final cost of the finished product. In companies continuously working over 2 or 3 shifts, these percentages can even increase. Delfin has designed Pneumatic Conveyors which allow to recover these powders and put them back into the production cycle.

Which kind of material can be conveyed by using pneumatic transport?
This type of technology is mainly addressed to those businesses which need to transport materials such as:
Powders (minimum particle size> 1 μm),
Granules (maximum density <3 kg / dm3),
Solids (maximum dimensions 10x10x25mm).
In which kind of environment can I use pneumatic transport?
Pastry production
Production of semi-finished products
Production of ice cream
Production of chocolate
Production of confectionery products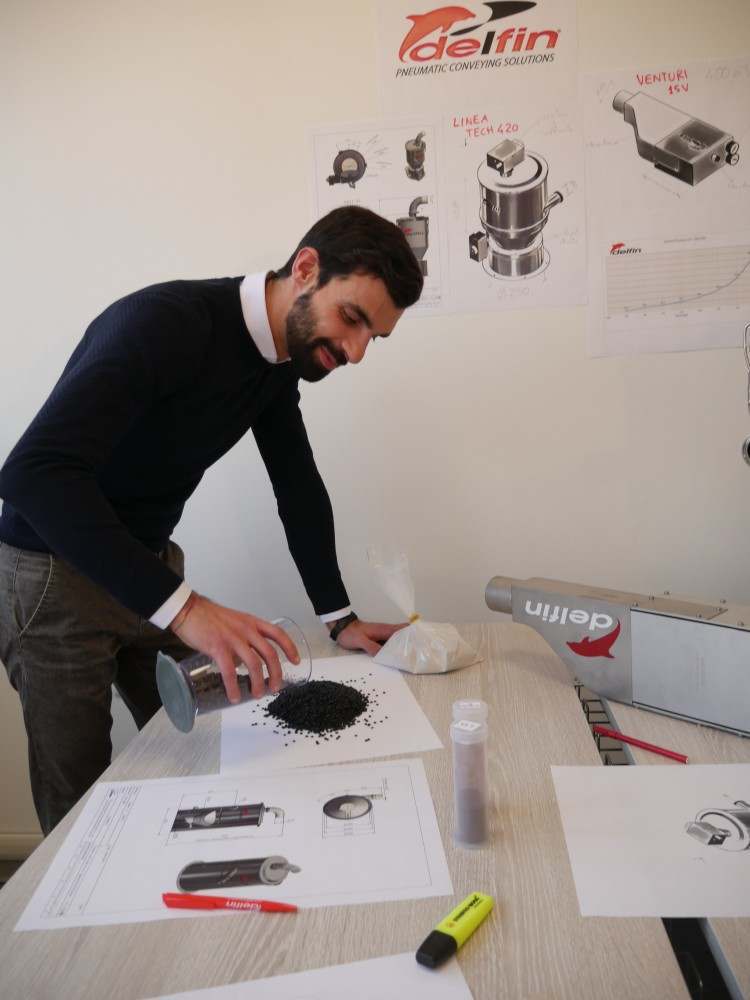 Send us samples of your product to get a full test!

Why choosing a Delfin pneumatic transport system?
The simplicity of installation and the low costs of managing and maintaining a Delfin pneumatic transport system are among the most significant benefits for confectionery and milling industries.
Delfin Pneumatic Conveying Solution department guarantees the highest levels of service quality and reliability:
Pre-sale: consulting, product and production line study, ad hoc design
Offer issue: issue of reference offer within 48 hours from the receipt of the necessary technical and application information
Sale: quality to a fair price
After-sales service: prompt intervention even after putting the system into service and availability of spare parts ready for delivery.
Ask for more info...