Partnership as the driver for mutual growth



Interview with Esmee Wittebrood, Marketer at Atimo, Netherlands


29/06/2023
Delfin always puts its
customers
and
partners first.
Cultivating
long-term partnerships
and
synergies
with them is for us the key to
continuous innovation
and
mutual growth
. In this perspective, collecting their feedback and opinions is crucial to understand where we were and where we are today, and, above all, to understand how to continue to improve every day.
This is why we have decided to interview
Atimo
,
our long-standing partner
and
supplier
in the Netherlands, working in the field of industrial vacuum solutions.
In five bullet points, we have asked Esmee Wittebrood, marketer at Atimo B.V., to sum up their business history and their point of view on the development of Atimo's business relationship with Delfin.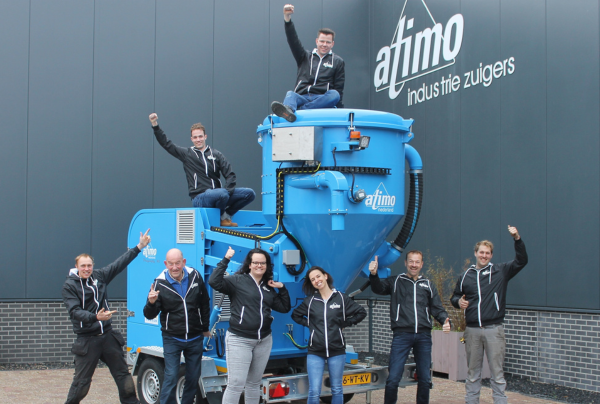 Could you briefly describe your company activities?
We are Atimo! We sell industrial vacuum units plus we provide maintenance and advice for the best choice and use of our vacuums. We started about 18 years ago and since 2013 we have settled in Warmenhuizen, the Netherlands. Since then we have already expanded two times due to growth of the company. Atimo consists of a team of sales professionals, mechanics and marketeers. We hold a big part of the online market currently, through which we offer vacuum units fit for all branches of the industrial sector. We sell both directly to customers and to resellers within the Netherlands. From the smallest Delfin Mistral 401 to big central vacuum systems, we have it, sell it and make it work!

Tell us a little more about your corporate history and corporate development.
Atimo was founded in 2005 in Alkmaar. Since then we have grown and relocated to Warmenhuizen in 2013. Thanks to our loyal team and exceptional knowledge for niche markets we have become the biggest expert on industrial vacuum solutions within the Netherlands. No question goes unanswered and no problem is too outlandish for us. We have been partners with Delfin from day 1 and have even received the prestigious Delfin Award for most innovative team at the 25 year anniversary of Delfin.

Describe your business sector.
We focus on selling vacuum systems. Within that category we have everything from oilvacuums to ATEX-certified machines and from preseparators to extraction tables. Anything pertaining to industrial vacuum units, we have it. Besides the big machines we also offer maintenance, accessories and replacables like filters or longopacs. Our customers come from everywhere: many come from production industries like steel, wood and paper, but we also get a lot of contractors and floor preparation businesses asking for our products. Thanks to the wide range of products, it is possible for us to help any customer with their dust problems and grant their specific wishes in the process. We have vacuum cleaners that run on Liquid Propane Gas, pneumatic transport and even vacuums specifically designed to remove Oak processionary caterpillars from trees without issue.
Tell us about your business experience and relation with Delfin. When did it start? How did it develop? How much did it grow?
Back in 2005, when Atimo started and partnered with Delfin, both of the companies were still relatively small. We sold a small amount of vacuums and we had one spokesperson who would be able to answer our questions. Now we sell more than hundreds of machines for Delfin and keep expanding our catalogue based on the innovations at Delfin. We still give regular feedback on the products, based on our client's experiences with the machines, in order to help further the development within our specialty. Our ongoing contact with Delfin happens on many different fronts: from the pictures for our websites to production updates, everyone in our company has their own intermediaries within the Delfin company.
If you were to indicate a strength or advantage of working with Delfin company, what would it be?
One of the advantages of our teamwork with Delfin is that we are able to stay up to date on all the new innovations directly through our connections. New products are announced on the Italian site and we are able to sell them as soon as we have our own page up. It is also easy to get extra information on specific vacuums by simply e-mailing our questions to the right spokesperson. We can expect quick reactions which accelerates the speed of our actions. We are also very content with the wide variety of the Delfin program. This helps us to keep the leading position in our field. We hope to keep our partnership with Delfin healthy and conducive by providing our own knowledge to you and build on our expertise from both sides in order to keep our customers helped and happy!


For us of Delfin team, our international partners and suppliers play an essential role in helping us distribute our products and services worldwide, ensuring quality, efficiency and providing high standards of technical support to answer to each customers' need.
If you want to know more about Delfin world and become our distributor, join us and be part of our team!
Keep in contact with Delfin world