Stainless steel

industrial vacuum cleaners made: the different surface treatments
09/08/2021
In the pharmaceutical, cosmetics, chemical, and food industries, the surfaces of machines that come into contact with the processed products must meet the highest quality standards and ensure maximum hygiene.
The preferred material for the construction of machinery for these sectors is stainless steel. In this article, we will understand why and learn about Delfin's different types of stainless steel.
WHY DO WE USE STAINLESS STEEL?
Stainless steel is an alloy characterized by higher resistance to oxidation and corrosion, mainly due to the near absence of carbon <=0.07%, and the presence of chromium.
Stainless steel is suitable for use in production areas due to its characteristics:
It has a high resistance to corrosion

It does not need protective coatings

Retains its toughness, even at cryogenic temperatures
All these characteristics make stainless steel a perfect material for use in industries that have very high standards of cleanliness and production, with the need to avoid contamination of raw materials and products.
DELFIN INDUSTRIAL VACUUM CLEANERS: THE MOST COMMON TREATMENTS
Delfin industrial vacuum cleaners for the most common applications are made of steel and painted according to a meticulous process.
In order to meet the different needs and requirements of the industries, Delfin industrial vacuum cleaners can be partly or fully manufactured with different types of stainless steel and internal and external surface treatments.

The parts that can be supplied in stainless steel are: the container, the casing, the frames, the trolleys, the electrical panels and some components such as the roping. Among the most common steels are AISI304, AISI316 and AISI316L.

The various types of stainless steel are mainly known under the notation of AISI steel (American Iron and Steel Institute). The various stainless steels differ according to the percentage by weight of the constituent elements of the alloy, the most common being:

304 - Cr (18%) Ni (10%) C (0.05%)

316 - Cr (16%) Ni (11.3/13 %) Mo (2/3 %)

316 L - (Low Carbon): Cr (16.5/18.5%) Ni (10.5/13.5%) Mo (2/2.25%) C (< 0.02%)
The letter "L" indicates the low percentage of carbon (Low Carbon) present.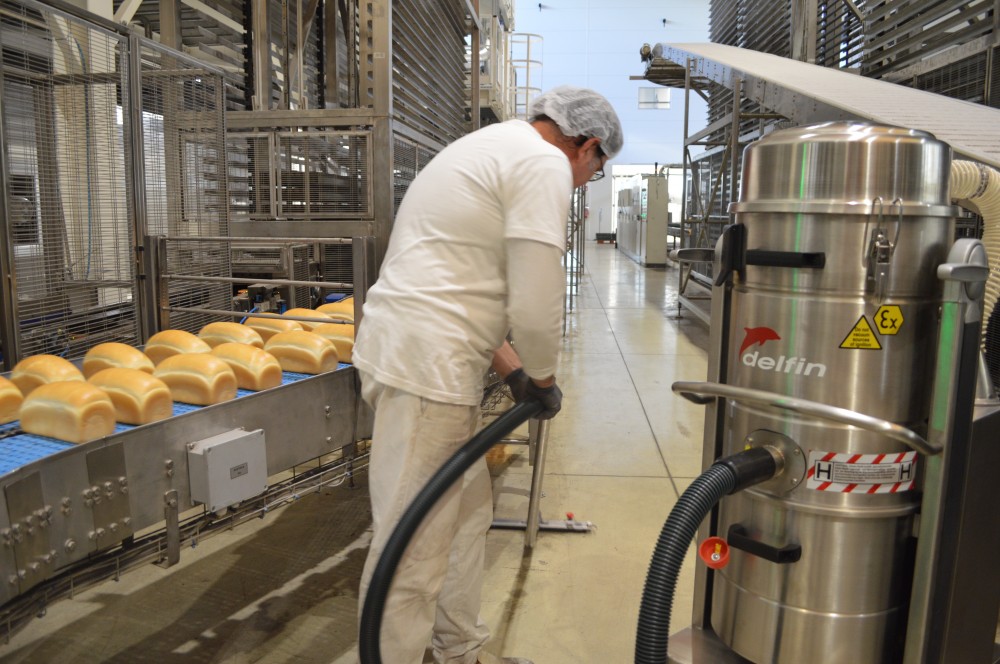 SURFACE TREATMENT FOR STAINLESS STEEL AISI304​
AISI304 stainless steel is the most popular material for pharmaceutical and chemical applications, and is known in Italy as '18-10 stainless steel'. AISI 304 is a non-magnetic austenitic stainless steel, with a chromium content between 18% and 20% and nickel between 8% and 11%; its density is 7.9 kg/dm3. Its standard processing includes the removal of edges and corners in order to uniform the surface.
AISI304 PROFESSIONAL STAINLESS STEEL SURFACE TREATMENT
This treatment differs from the "basic" surface treatment of stainless steel 304 due to the addition of the satin finish process on the outside The satin finish produces a matte effect that is resistant to fingerprints.
SURFACE TREATMENT WITH EXTERNAL SATIN FINISH AND INTERNAL POLISHING AISI316 (AND AISI316L) STEEL
AISI 316 stainless steel is an austenitic stainless steel alloy with a chromium content between 16% and 18%, nickel between 11% and 14% and molybdenum between 2% and 3%. There is also a 316L (Low Carbon) version, with a carbon content of less than 0.035% (316 allows up to 0.080%) to prevent the precipitation of chromium carbides and therefore corrosion.

In the construction of Delfin vacuum cleaners, 316 stainless steel is treated externally with the standard procedure described above.
Internally, mirror polishing of the entire internal surface is added. The advantage of mirror polishing the steel is that the surface roughness is reduced to a minimum and with it the possibility of external agents affecting the metal itself.

This treatment is carried out on machinery intended for environments requiring high sterility, such as clean rooms. For these environments our LC1000D and LC1100WD industrial vacuum cleaners are the perfect solution.
SPECIAL TREATMENTS ON REQUEST
Thanks to our in-house workshop, special treatments can also be carried out on request. Some of the most frequent are:
Internal and external mirror polish surface treatment.
Special welding finish for the pharmaceutical industry: On specific request, TIG welds can be carried out (arc welding process with the infusible electrode, under inert gas protection, which can be performed with or without filler metal). This treatment is achieved through careful planning and highly specialized welding.
Discover all Delfin vacuum solutions for your needs.