Industrial vacuum cleaners for

road trench

and

micro trench
12/07/2021
When excavating roads for the installation of various types of infrastructure, from water pipes to fiber optics in urban areas on roads, quaysides and directly on pavements, micro-trenching offers many advantages but often leads to problems such as:
Risk of ground subsidence

Large quantities of dust to be removed

Poor site cleaning

Long working times and public inconvenience
Delfin's industrial vacuum solutions manage to solve the inconveniences related to dust and materials to be removed during cutting.
TRENCHES AND MICRO-TRENCHING: SIMILAR PROBLEMS BUT DIFFERENT SOLUTIONS
The biggest difference between trenches and micro-trenching lies in the size of the trench. The size of the micro trench cut is 20cm deep and a maximum of 3.75cm wide, therefore very narrow.
Whereas a trench cut has a maximum width and depth of 4.60m. If the depth of the cut is greater, this is referred to as trenching.
The sands, clays, silts, dust, and gravels that are produced in large quantities during trenching and micro trenching are removed from the excavation using brooms and collected in buckets by manual operations, all of which takes a long time and requires operators. The dust generated by the excavation is often dangerous to the environment and people, and must therefore be extracted at the source.
Delfin proposes various vacuum solutions capable of removing the sand and materials produced by cutting directly at the source so as to:
Reduce cleaning and material removal time

Collect and unload material at a chosen location

​Ensure the health and safety of operators
VACUUM CLEANERS AND VACUUM SOLUTIONS FOR MICRO TRENCHING
In the case of micro-trenching, wheeled industrial vacuum cleaners are the ideal solution, with their different motors and sizes they meet all requirements, from the collection of a small amount of material to continuous work.
Highly customisable products

High vacuum performance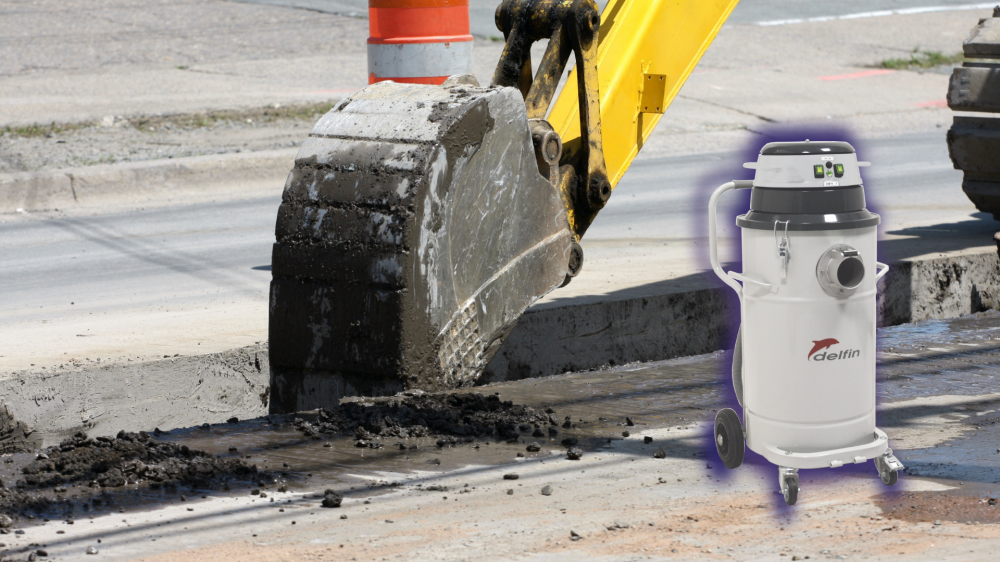 CHECK OUR SOLUTIONS


VACUUM CLEANERS AND VACUUM SOLUTIONS FOR TRENCHES
For large trenches, the ideal solution is to use Delfin DHV lobe pump vacuum cleaners, capable of removing large quantities of material, up to 1000lt, with the possibility of unloading the material at a chosen point, in bags or containers. High-performance vacuum cleaners that are easy to handle thanks to forklift attachments, with easy disposal and discharge of material thanks to removable containers.
High operating autonomy

Low noise level

Multiple possibilities for product customization
SEND US YOUR REQUEST