WHEAT

,

FLOURS

AND

BRAN

HANDLING
02/07/2019
During pre-cleaning, cleaning, conditioning, grinding and packaging processes, wheat is subjected to different treatments, before being converted into the final product, such as flours and bran.

Difficulties in transporting flours
Transferring the material from a processing machinery to the next is one of the most critical phases in the production process and frequently is one of the main causes of inefficiency.
Product loss during transportation which causes waste and "polluted" production environments
Frequent maintenance of the machinery
Difficult sanitization operations
Pneumatic conveyors for flour and cereal grains
Pneumatic conveyors systems are the most suitable solution to convey powders and grains from a processing machinery to the next.
Pneumatic conveyors only use air to move products and so they are the most
hygienic
solution to
maximize production line.
No product leakages, which implies hygienic maintenance of the department and safety increase
Reduction and/or avoidance of maintenance operations
Simplicity in the sanitization thanks to the low number of mechanical components making part of the system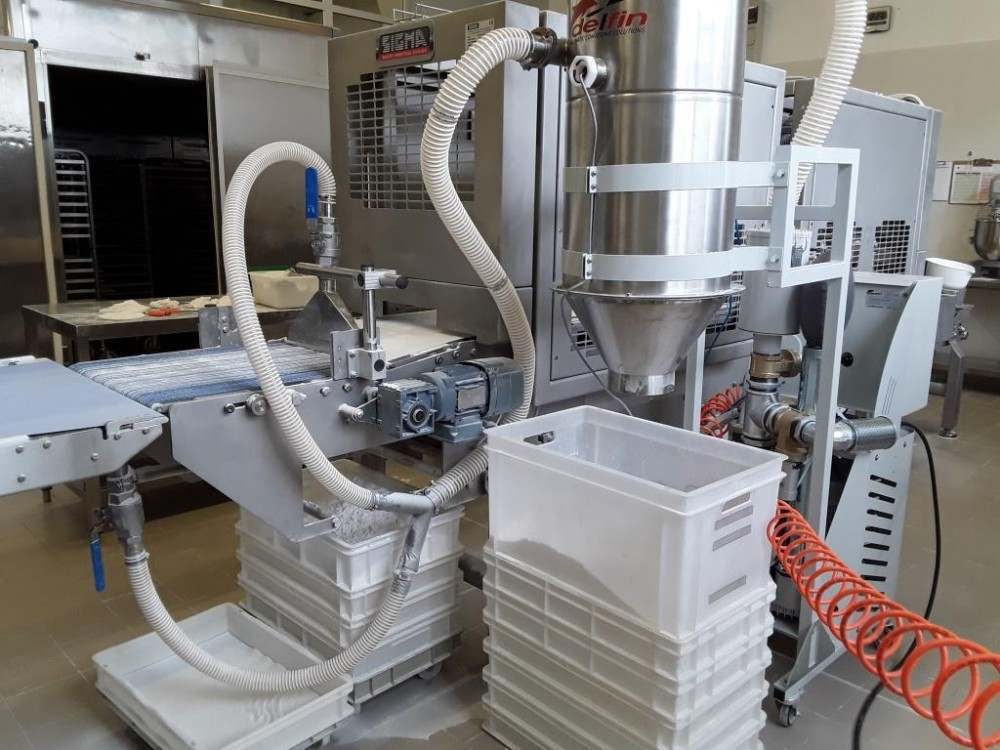 Six advantages of using pneumatic conveyors with flours and cereals
Reduction of product leakages during handling operations
Since the system works with air waterlift, possible product leakages during handling operations are avoided
Product recovery and re-entry into the production cycle
The system can also recover and reuse product suspended in the air which is generated during discharge phases in packaging operations.
No product and environment contamination
Pneumatic conveyors use closed transfer circuits: the material enters the system and only comes out at the final stage of the process, at the discharge point. This way, the material cannot be contaminated by external agents and allows to minimize any contact between the product and the operator.
Pneumatic conveyor finishing and technical structure allow to avoid the alteration of physical and organoleptic features of the product. When possible, this system avoids possible de-mixing.
More space for production
The entire line is made of pipes (flexible or rigid) which permit to leave the production department free of obstruction and usable for other activities and/or machinery.
A process machinery in milling industry daily handle several tons of product.
The several mechanical components of traditional systems such as screws, bucket elevators or aeromechanical conveyors make maintenance incessant and expensive.
In pneumatic conveyors plants, moving mechanical parts are almost absent: this guarantees a significant time reduction in maintenance operations.
Why to choose Delfin pneumatic conveyors?
The ease of installation and the low maintenance costs of Delfin pneumatic conveyors are among the most relevant advantages in milling industry.
Delfin Pneumatic Conveying Solutions
guarantee the best service quality and reliability:
Pre-sale: advisory; consultation; study of the product and of the production line; ad hoc design
Offer : the offer is submitted within 48 hours from the receipt of the necessary technical and applicative information
Sale: good value for money
After-sale: 1 year warranty and prompt intervention even after putting into service
Ask for more info...